It's the holidays. Time to throw caution to the wind? Nope! You can enjoy the holidays and still embrace a healthy Halloween menu! Even though Halloween is a significant event for our home, I don't want my ghoulish figure to suffer.
In just a little over a week, we have a major Halloween party planned. I feel totally unprepared!  However, filling the cart in a histrionic panic doesn't sound like a grand idea.  While our menu does include vampire donuts, our party also needs a few healthy Halloween ideas, too.  So, I went foraging on the internet for inspiration.  Hopefully, this healthy vegetarian Halloween round-up helps you as much as it did me!
Healthy Vegetarian Halloween Ideas
1. Orange Fruit Jack-O-Lantern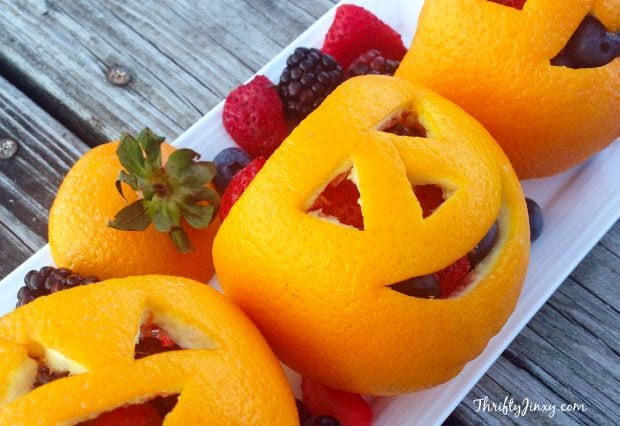 I've been a Thrifty Jinxy since I first found the site.  She always posts the best recipes and ideas. So when she published this adorable orange fruit Jack-o-Lantern, I just melted.  It's utterly charming, easy to make, and looks too healthy to be true! Blackberries, strawberries, blueberries, oranges?  So perfectly cute and straightforward!
2. Ghostly Halloween Fruit Dip
It's almost spooky how fun this Ghostly Halloween Fruit Dip is!  TwoHealthyKitchens.com uses Greek yogurt which has more protein kick than traditional yogurt. She also makes suggestions to modify the dip's sugar content.  May I suggest making a few extra in advance if you're having a large party?  Because it's sure to dematerialize in front of your eyes!
3. Sweet Potato Appetizer Bites with Feta and Green Onion
This sophisticated recipe from Kayln's Kitchen, with all its color, may just steal center stage!  Salty feta, rich sweet potato, and tangy Greek yogurt combine for a decadent sweet potato bite.  Imagine how this colorful appetizer will look on a black plate!
4. Pumpkin Hummus Veggie Flatbread
This savory dish from Living Sweet Moments could serve beautifully as an appetizer or a main dish.  I may make a few of these and cut each into several squares as a snack for our Halloween party. I find the unique addition of pumpkin thoroughly intriguing.
5. Zero Waste
Finally, in her blog post, Ethical Halloween Costumes, Kathryn at GoingZeroWaste.com emphasizes the importance of shopping your closet.  She also makes suggestions for finding more environmentally friendly Halloween costume ideas.  Because her ideas save you some green and help you make a green decision, her post is a winner all around.
The following two tabs change content below.
Happily married to the love of my life. It's just us, our 5 cats, and our beautiful woods. I'm loving living back in the Florida panhandle being close to family. I love cooking, living a healthy lifestyle, taking care of our cozy home, and trying new things.
We enjoy hosting parties and my husband and I are both avid gamers. You can find me on PS4 as SunshineFlaGirl. We also play tabletop RPGs and eurogames.
Latest posts by Alicia Taylor (see all)